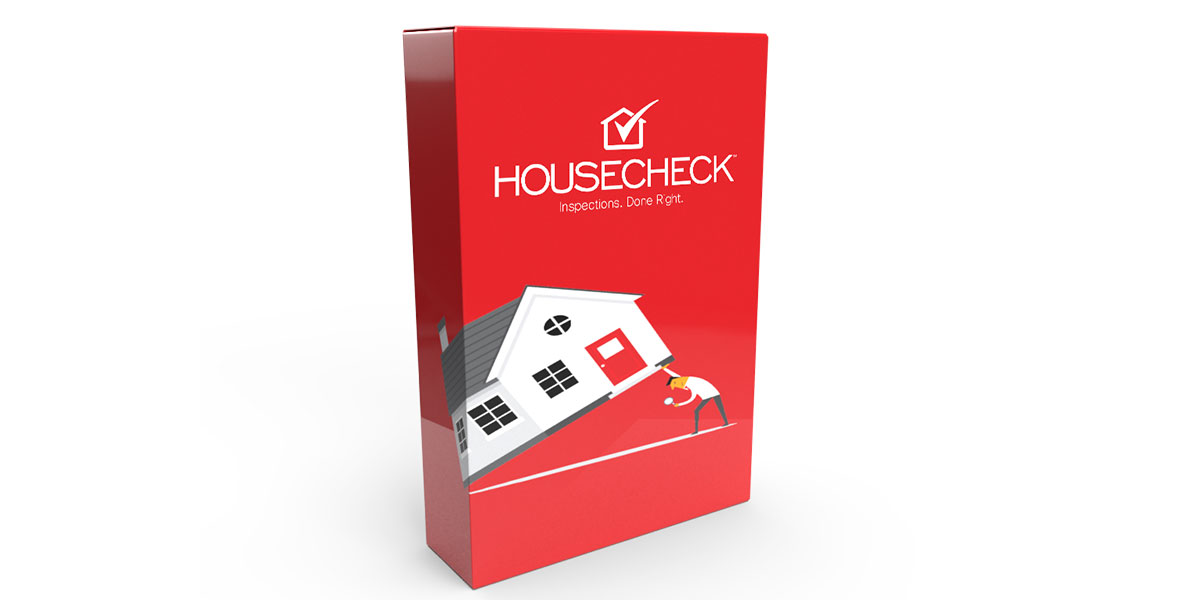 June is National Homeowners Month and HouseCheck is celebrating with its first-ever sweepstakes! During each of the four weeks in June, HouseCheck is giving away products that will help to enhance the experience of buying or selling a home for all involved in the transaction process.
This week, HouseCheck is happy to feature our signature HouseCheck Home Inspection, the cornerstone service that started it all!
What is a Home Inspection?
A home inspection is the unsung hero in any home purchase, and is often a prerequisite to the completion of any real estate transaction. Most often a service purchased by homebuyers, the home inspection report provides critical insight about a home that helps them know what they're getting into, and even inform whether they wish to continue in the purchase at all.
The home inspection is a look behind the curtain to see what is really going on behind the professional staging, the fresh new landscaping, and all those extra touches that went into making a home presentable for the marketplace.
Want to know if the HVAC system and appliances work? Does the home have leaks? Have there been questionable repairs; are your electrical outlets wired properly; is your roof going to need to be replaced sooner rather than later? All of this information and much more is captured in the home inspection, which is conducted by an experienced professional trained to spot these types of details.
As you might imagine, the information that comes out of a home inspection can carry significant weight. Depending on the results of an inspection, the report can really shift the power of negotiation.
How is a HouseCheck Home Inspection different?
HouseCheck was founded on a commitment to provide the most detailed information on the condition of a home. The HouseCheck Home Inspection, conducted by our certified local expert inspectors, helps to ensure that customers have the most comprehensive data available to help make the most informed decisions when it comes to buying or selling their home.
HouseCheck inspectors bring an unmatched level of experience, knowledge, and impartiality to every inspection. They also bring with them enhanced training, innovative technology, and the backing of a solid national brand to make sure our customers receive the top quality service we set out to provide in everything we do.
If that's not enough, every HouseCheck Home Inspection comes with:
• An unconditional money-back guarantee
• A FREE 120-day home warranty
• A FREE 90-day Home Buy-Back satisfaction guarantee
• FREE Concierge Service to manage the changeover on all your utilities and help you manage home repairs for life*
• $200 in FREE discount coupons for handyman services*
(* Not available in some markets)
The information and detail delivered in a HouseCheck Home Inspection simply cannot be found through any other inspection. It is the best representation of all that is good and maybe not-so-good in a home, and as a transaction progresses the results offer peace of mind that buyers are fully informed and can proceed in confidence.
Is a home inspection only for homebuyers?
GREAT question. Glad we asked!
Remember way back when we said that home inspections were most often a service purchased by homebuyers? Well, that's true. BUT, it doesn't have to be that way. And truly, it shouldn't be that way.
The home inspection helps to protect buyers from any hidden surprises that could pop up after a home is purchased. What is often forgotten is that any surprises identified by a buyer's inspection are often surprises to the seller as well. And if the surprise of a hidden flaw in a home isn't enough by itself, imagine the surprise when your sale price drops by potentially several thousand dollars to cover the needed repairs. Ouch!
HouseCheck is working to shift the mindset of the marketplace and help home sellers get a product on the market that avoids these unpleasant twists. When a seller gets a HouseCheck Home Inspection, they can have confidence that any surprises have been identified and addressed, and that what they're asking is what their home is worth.
Peace of mind if of utmost importance whether you're buying a home or selling a home, and that's exactly what you get each time you get a HouseCheck Home Inspection.
Get to know HouseCheck!
If you have been thinking about buying or selling a home OR if you are a real estate professional working to help your clients navigate the complexities of real estate transactions, now is a great time to discover HouseCheck and see what we have to offer. Start by signing up for our sweepstakes and get your shot at seeing some of our great services first hand and on the house!
Enter for free today at http://housechecksweepstakes.com. No purchase necessary to win. You must be a legal resident of the U.S. to enter, void where prohibited. The Sweepstakes begins on June 1 and ends at 11:59 MDT on June 30. There will be one prize for each week during the Sweepstakes period. You must be at least 18 years old to enter. See the Official rules at https://housecheck.com/sweepstakes-rules.