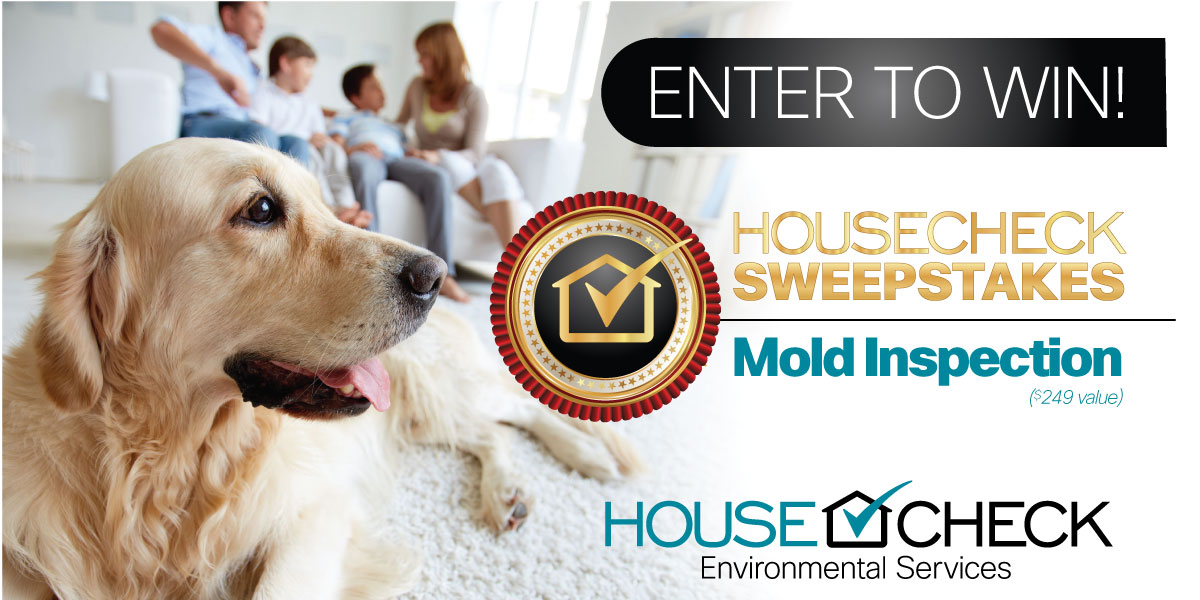 National Homeowners Month is moving right along and, with the passing of June, will soon draw to a close. That means that you're running out of time to take part in the celebration with HouseCheck's first-ever sweepstakes! If you're a little late to the party, no worries. There's still time!
For each of the four weeks in June, HouseCheck is giving away products that will help to enhance the experience of buying or selling a home for all involved in the transaction process.
This week is your chance to walk away with a complimentary mold inspection from HouseCheck Environmental Services.
Do I really need a mold inspection?
You never want to think that your home has mold. You keep things tidy and maintained, you hopefully haven't experienced any flooding. Surely you're in the clear and this little part of HouseCheck's sweepstakes maybe isn't for you. But are you sure about that?
According to the documentary called Moldy, more than half the houses in the United States have some kind of mold problem. Perhaps even more concerning, nearly 28% of the population are genetically predisposed to adverse health effects related to mold.
That's probably reason enough for any resident to have your home checked to ensure it's free from mold and that you and your loved ones can rest easy.
But what if you're a real estate agent? Should you advise your clients to have a mold inspection for your listings? It's likely not a requirement, but the more you know about a home the easier it is to navigate the transaction for all involved, right?
It's also worth noting that Realtors in Louisiana were recently held responsible for not disclosing mold issues in a home, which led to health problems for the residents. That's a bit of an extreme case, but any inspection and proper disclosure likely would've avoided any issues all together.
The bottom line is that if you're unsure about the presence of mold in your home, why not get sure? And it's probably even better if you can save $249 in the process!
Can't I find mold without an inspection?
Mold is a naturally occurring thing that exists all around us. It's not all bad as some molds help to break down organic materials to get them back into the ecosystem – think compost. Some molds are even edible, such as certain mushrooms and those that help produce various cheeses.
But mold definitely has its place, and inside your home is not really ideal. You can do regular visual inspections to try and spot mold. The only problem with that approach is that if you see it, it's already too late and you have a mold problem.
HouseCheck's Certified Mold Specialist, Ken Siders, reminds us that the only thing mold spores need to grow is a food source and water. So, by the time you're able to see a collection of mold that is visible, you have had an issue for some time.
One of the goals of a mold inspection is to identify signs that may be conducive to mold growth and get a handle on a mold problem before it starts.
What does a HouseCheck Mold Inspection do?
You'll find many more details about a HouseCheck Mold Inspection on our website, but here is some of what you can expect:
HouseCheck's experts visually inspect your residence for warning signs and conditions that may present a mold risk.
The team takes readings with an infrared camera.
Inspect air conditioning unit to see if condensation might be creating microbial growth.
If we find your house is at risk, we'll explain our findings and detail your options for further testing to pinpoint the location and severity of the issue.
We'll recommend effective steps for removing the mold. Once remediation is complete, we'll retest your house to make sure your home is clear.
The bottom line is that a mold inspection is important for both your home and for your health, and regular inspections can help you stay in front of potential problems and stop them before they start. It's something that every homeowner should consider, whether as a sweepstakes prize or a standard element of diligent home ownership.
But hey, since there's a sweepstakes going on, you might as well try this route first!
Get to know HouseCheck!
If you have been thinking about buying or selling a home OR if you are a real estate professional working to help your clients navigate the complexities of real estate transactions, now is a great time to discover HouseCheck and see what we have to offer. Start by signing up for our sweepstakes and get your shot at seeing some of our great services first hand and on the house!
Enter for free today at http://housechecksweepstakes.com. No purchase necessary to win. You must be a legal resident of the U.S. to enter, void where prohibited. The Sweepstakes begins on June 1 and ends at 11:59 MDT on June 30. There will be one prize for each week during the Sweepstakes period. You must be at least 18 years old to enter. See the Official rules at https://housecheck.com/sweepstakes-rules.
Resources:
https://housecheck.com/black-mold-health-effects-and-symptoms/
https://housecheck.com/effective-removal-of-black-mold/
https://housecheck.com/what-is-mold/
https://housecheck.com/how-to-detect-mold/
https://www.myarklamiss.com/news/local-news/century-21-realtors-held-responsible-for-black-mold-found-in-home/1995734671