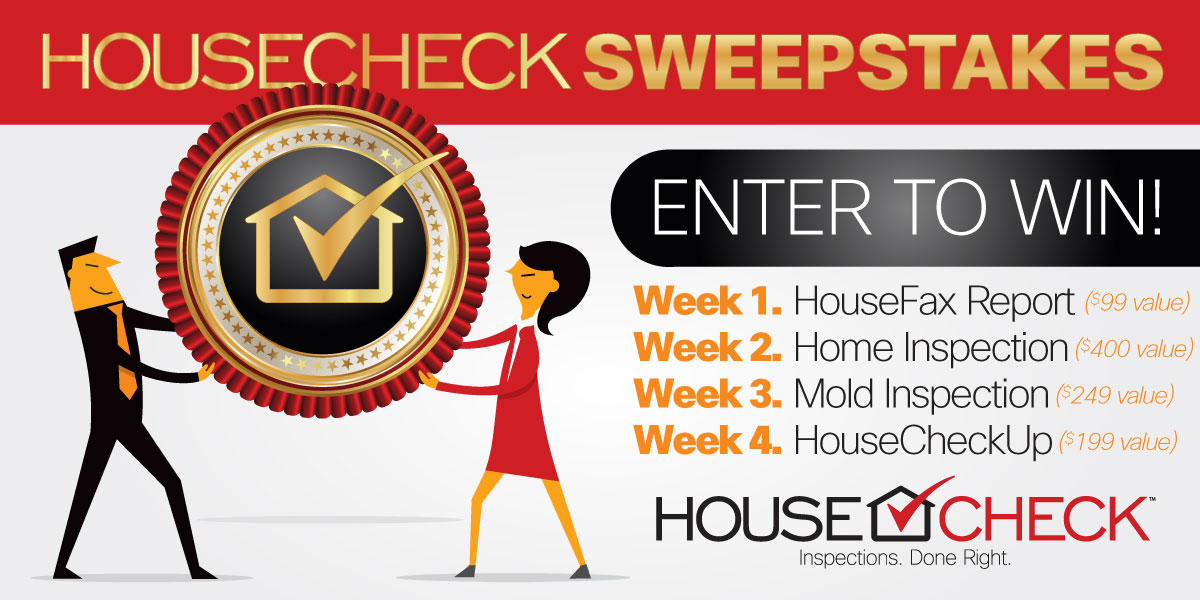 FOR IMMEDIATE RELEASE
BOISE, Idaho, June 3, 2019 – June is National Homeowners Month and National HouseCheck Corporation is celebrating by giving homeowners an opportunity to win some important home service essentials.
Beginning this week, homeowners and real estate professionals alike are invited to take part in the first-ever HouseCheck National Homeowners Month Sweepstakes! Participants can enter for free and each week a winner will be chosen to receive one of the following HouseCheck services, on the house!
Week 1: HouseFax Property History Report – one month unlimited ($99 value)
Week 2: HouseCheck Home Inspection – – up to 2,500 sq.ft. ($400 value)
Week 3: Mold Assessment ($249 value)
Week 4: HouseCheckUp ($199 value)
Join us in celebrating National Homeowners Month by getting to know HouseCheck, and enter for your chance to win some great tools for your home ownership toolbox.
Enter for free today at https://housecheck.com/sweepstakes-national-homeowners-month/. No purchase necessary to win. You must be a legal resident of the U.S. to enter, void where prohibited. The Sweepstakes begins on June 1 and ends at 11:59 MDT on June 30. There will be one prize for each week during the Sweepstakes period. You must be at least 18 years old to enter. See the Official rules at http://housecheck.com/sweepstakes-rules/.
About HouseCheck
National HouseCheck Corporation is transforming the real estate industry for home sellers, buyers and Real Estate professionals. HouseCheck is your Real Estate service, technology and data source for unmatched transparency and the most comprehensive, detailed look at the history of a home. Through its expanding family of services – HouseCheck Home Inspection, HouseFax, HouseTrack, HouseCheck Home Warranty, and more – HouseCheck delivers total protection and peace of mind for all involved in real estate transactions. Learn more about how HouseCheck is changing the way homes are bought and sold for the better at https://HouseCheck.com or by calling 844-94-CHECK (24325).
# # #
Jordan Scott, Communications Coordinator
(740) 809-2592