What you can expect as a House
Check
Inspector:
More net income for your family
An equity stake in HouseCheck
Healthcare & other employee benefits
We also provide you with:
Proprietary software for fast report generation
Order entry & inspection scheduling support staff
National & local marketing support
Errors & omissions insurance
Thermal imaging camera & other inspection equipment
HouseCheck logo wear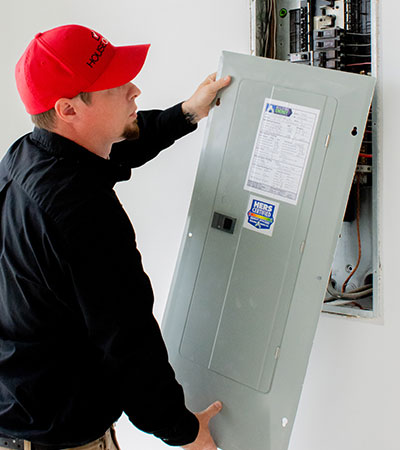 What makes a House
Check
home inspection different:
Thermal imaging scan included on every inspection
Foundation elevation measurements included
Same day report delivery
Irrigation systems included at no charge
Unconditional money-back guarantee
FREE 120-day home warranty
FREE 90-day Home Buy-Back satisfaction guarantee
Some more good reasons to join HouseCheck:
If you're a home inspector, you didn't become an inspector because you thought it would be fun to deliver donuts to real estate offices and hope for referrals.
And you're probably not too crazy about explaining your services and pricing over and over again to every prospective customer, or having to deal with all the appointment scheduling, either.
You became a home inspector for one reason: You wanted to inspect houses. But let's face it…you're probably spending way too much time dealing with all the issues that come with running a home inspection business, and not nearly enough time to actually inspecting houses.
When you join our team and become a HouseCheck inspector, we take care of all that "stuff", such as planning and executing marketing campaigns, answering inquiries, scheduling inspection appointments, and collecting payments. That frees you up to focus on providing quality home inspections.
Take a closer look at some of benefits of joining the HouseCheck team:
YOU'LL ENJOY EMPLOYEE STATUS. At HouseCheck, you'll be a W2 employee rather than a 1099 contractor. And we are NOT a franchise operation; HouseCheck is a privately-held company, and as an employee, you'll become a part owner.
YOU'LL APPRECIATE OUR TOP-NOTCH SUPPORT. HouseCheck inspectors have access to a growing team of HouseCheck employees who are dedicated to your success. This team creates and deploys marketing initiatives, manages sales leads, and schedules inspection appointments for you. In addition, our dedicated Inspector Support Team will regularly generate up-to-date web-based training materials for you, assist you with any inspection-related issues or questions, and help you fully benefit from our technological systems.
YOU'LL BE PART OF A RECOGNIZED NATIONAL BRAND. HouseCheck is changing the way the home inspection industry operates. As HouseCheck expands into new markets, we hire salespeople who are experienced local realtors. Their full-time job is to reach out to the local real estate community, converting realtors to the HouseCheck vision! Meanwhile, we create consumer awareness by targeting homeowners with a robust campaign including TV, radio, billboards and digital media. Over time, we believe that HouseCheck will become a consumer-recognized brand from coast to coast.
YOU'LL BENEFIT FROM OUR VALUE-ADDED APPROACH. HouseCheck is dedicated to bringing greater value to homeownership. That why, in addition to home inspection services, we also offer these cutting-edge home services:

HouseCheckUp. When a full home inspection isn't required, HouseCheckUp helps maintain the value of the home by empowering everyday homeowners to avoid unpleasant surprises. This also means more work and income for HouseCheck inspectors!
Home Warranties. Our home warranties safeguard homeowners against the high cost of unexpected failures to the major systems and appliances in their homes — leading to greater certainty and increased confidence.
HouseCheck Certified Pre-Owned Home. This innovative certification program provides for the inspection and approval of a house before it's listed on the market — reducing stress, eliminating complexity and helping everyone move forward. It also helps the seller receive the best price for their home.
HouseTrack. This after-inspection service is an interactive energy management solution tracks and monitors home energy trends and provides control over the home — as well as the electric bill.
HouseFax. Like an automotive history report, HouseFax delivers an invaluable, detailed, accurate property history you won't find anywhere else.

HouseCheck provides an unbeatable package of services that open the door for you to earn more, grow more, and be more. Let's start a conversation and explore the opportunities you'd enjoy as a HouseCheck Home Inspector.