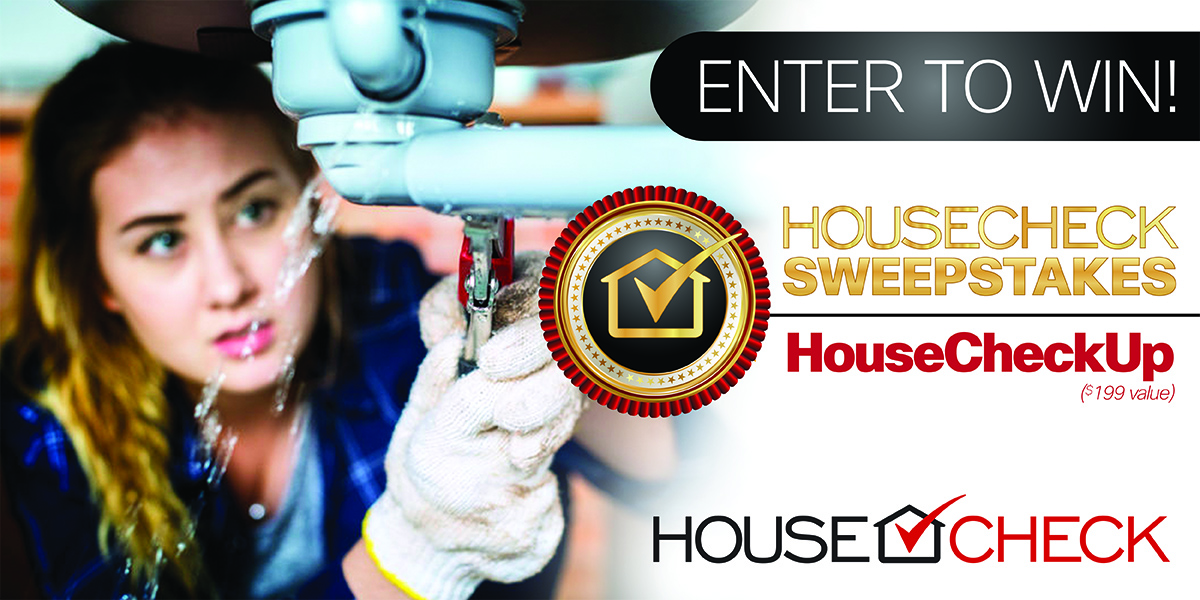 HouseCheck Sweepstakes – Week 4, HouseCheckUp
Well that was quick! Here we are, already at the final week of June with another National Homeowners Month drawing to a close. But don't be sad, homeowners! There is still time to take part in HouseCheck's first-ever sweepstakes and take a chance at what might be the most valuable prize of all!
Each week throughout the month we have been giving away a critical tool for the homeowner's toolbox. We kicked off the month with a complimentary month's worth of HouseFax Property history reports, the most comprehensive information and data detailing the true condition of a home.
Next, it was HouseCheck's signature service, the HouseCheck home inspection, followed by a Mold Inspection from HouseCheck Environmental Services.
This week we're closing things out in an exciting way, giving away a HouseCheckUp Maintenance Inspection!
What's a HouseCheckUp?
As we get into the heat of summer, many of us have our air conditioners running full tilt to help us beat the heat. Outside it may feel like you're standing on the surface of the sun, but inside that sweet cool breeze is making penguins jealous.
Of course if you haven't checked out your air conditioning unit in a while, you may find yourself taking turns with your family standing in front of an open refrigerator to keep cool until an air conditioner repair technician can show up.
If only you could have seen such a maintenance need coming!
Well, as you may have guessed, that's what a HouseCheckUp Maintenance Inspection is all about – making sure your home's major equipment and systems are healthy and in proper, working order.
The HouseCheckUp Maintenance Inspection is a great way to help you stay on top of critical home maintenance and ensure your home's most critical systems are operating effectively and efficiently while helping to avoid any unpleasant surprises.
Why is a HouseCheckUp important?
If you're at all like most homeowners, you can easily identify when something is broken, but you may not know the warning signs that an expensive fix may be right around the corner. Sure, you know where your water heater is, but can you tell if it has a leak or may be in need of service? Can you really tell how many years your roof has left?
In general, unless you're a building expert trained to recognize the warning signs, the first indication you get that something with your home isn't right is when an expensive failure occurs. It's a hard lesson that we've all received one way or another, but it's one we're hoping to help other homeowners avoid.
Regular inspection and maintenance of the major systems in your home can help you stay informed and up to date on all necessary maintenance and repair needs. While there can be costs to maintain your equipment and keep it in good working order, those costs pale in comparison to those incurred when one or more of those systems breaks unexpectedly.
Oh, and don't forget the added inconvenience and discomfort in having to wait for repairs to be completed. Nobody needs that!
HouseCheckUp answers the questions on every homeowner's mind
The HouseCheckUp is essentially a physical exam for your home. It's a look at those areas that keep your home operating normally and keep you comfortable inside. But these are also areas that you may have forgotten about and/or taken for granted. The HouseCheckUp helps to answer important questions such as:
Is my water heater in good shape?
Will my air conditioner keep its cool this summer?
Is my furnace due for repair or replacement?
Do I have a good roof over my head – or is it about to spring a leak?
Are my gutters and downspouts in good working order?
Is my breaker panel in great shape – or ready to break?
Is my house's foundation sound?
Plus other keys to making sure you can depend on your home's systems and equipment.
The primary objective of National Homeowners Month is, of course, to celebrate home ownership. But it's also an ideal time to recognize the great responsibilities that come with owning a home. It's a lot of work!
But there's no need to get overwhelmed with the tasks of maintaining a home. One of the best things you can do for yourself as a homeowner is to understand that there are a lot of moving parts that make your home run, and those parts need to be checked up on by experts from time to time to ensure they receive proper attention to keep going.
The HouseCheckUp Maintenance Inspection brings in those experts to give you the information you need to keep things running smoothly in your home. As a homeowner, timely and accurate information about your home's condition is among the most important tools you can have.
A regular maintenance inspection provides information that can help you better understand your home's systems, make informed decisions regarding system upkeep, and help to avoid costly repairs down the road.
Don't miss out on this chance to check out HouseCheckUp. Your penguin friends will thank you for it!
Get to know HouseCheck!
If you have been thinking about buying or selling a home OR if you are a real estate professional working to help your clients navigate the complexities of real estate transactions, now is a great time to discover HouseCheck and see what we have to offer. Start by signing up for our sweepstakes and get your shot at seeing some of our great services first hand and on the house!
Enter for free today at http://housechecksweepstakes.com. No purchase necessary to win. You must be a legal resident of the U.S. to enter, void where prohibited. The Sweepstakes begins on June 1 and ends at 11:59 MDT on June 30. There will be one prize for each week during the Sweepstakes period. You must be at least 18 years old to enter. See the Official rules at https://housecheck.com/sweepstakes-rules.